And you, what are you watching now on television and on the Web?
You enjoyed "The Truman Show" with Jim Carey at the time, then you probably want to watch now "The DSK Show" with Dominique Strauss Kan.
This is a clever mix of reality show and CSI in Manhattan.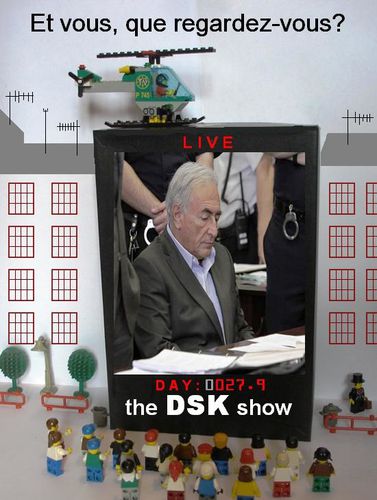 The continuously News channels finally have their reality show. Through this program and its thousands of hidden cameras everywhere, we were able to accurately track the output of the candidate's home and his arrival in court. To participate in the media event of the century, you just have to send by SMS "guilty" or "not guilty" whether or not you want to eliminate the candidate, the choice is yours!
To win if you are selected: a sumptuous villa in Morocco offered by the International Monetary Fund.
ECO-BRICK: SAFE VALUES IN CRISIS TIME
Times are hard, whether from economic point of view, from the health of companies or from the tranquillity of financials. To live through in this disastrous situation, the FFB (Financial Federation of the Brick) offers a guide of current safe values*.

*Nota: The following values are nevertheless subject to become commons values in the next months.

- Golden brick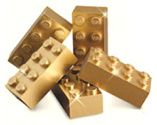 More than ever, gold reached record prices in recent times. The golden brick seems to be the wisest investment for the short or medium term. Small constraint, be careful of possible additional costs associated with the rent of a bank safe.

- Crude oil

Libyan if possible. Indeed, the black gold continues to see his rise of price due to demand increasingly higher from our Chinese friends. The best for a long-term investment. In addition, it can still be used for other things, you can use it like essentials oils in your bath, or like a fragrant paint insulating for your inside home.

- Escorts girls
Some ranked at several thousand Euros for one night, it's the sexiest investment of the moment. Very good value for short term or even medium term, but beware! Although plastic surgery and cosmetics have made tremendous achievements in this subject, your investment can be quickly devalued due to age and cost of maintaining too high girls. Check with your bank officer for advices and whether this investment can be added in your trading account.

- Fashion T-shirt "Age-of-Lego" or "I survived the crisis!"
Show your taste for fashion by wearing this beautiful exclusive collection!
If times get really tough, you will have at least enough to dress.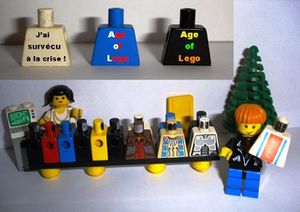 - Slums
Futur rental investment, whatever your home continent (especially Europe, which is soon ripe for this type of home). Very cheap for long-term core investment and low maintenance. However it not sure you can benefit from the french law "Scellier" to have a tax exemption on rental investments.

- False Bill
They are rarer than the real bills, so by definition have more value. They are probably also sought after by numismatic most picky. Very profitable in the short term especially if you have a device in order to create them.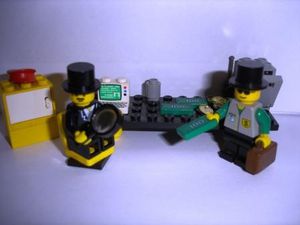 - Bets on the next economic crisis.
With a rating of over 4.5 on a crisis of rise to the raw materials, bet on the date of the beginning of the new crisis. You can also put options by estimating the number of people unemployed, or dead, and on the future amounts given to rescue bankrupt financial institutions.
Very good investment if you are realistic, however, make sure to put your earnings in a sure organism, or in one of the values listed above.

The Financial Federation of the Brick wish you best investments ever !